Summer terrace
In good weather, you can sit on our outdoor terrace and relish the magnificent view of Thun until the last rays of the evening sun disappear behind the mountains.
On a mild summer evening, this is the perfect place to unwind with a glass of excellent wine, a cool beer or our classic castle apero. We also serve marvellous food on the terrace, ranging from regional cheese & meat apero platters to 4-course menus!
Holidays! Right in the centre of Thun! We look forward to welcoming you!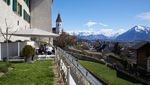 Opening times of the summer terrace
Tuesday to Saturday from 11.30 a.m. to 11.00 p.m.
Sunday from 11.30 a.m. to 10.00 p.m.
Warm weather only.